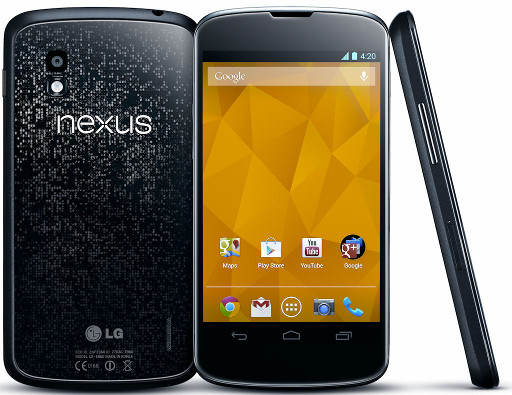 Since I first visited google.com/nexus, I've been dreaming of owning one of them one day, so when I found myself capable, I decided to got for it, and I'm glad I did :) .
Skipping the details, after months of brooding, in a self-surprising, split-second, unexpected decision, I decided to get myself a Google Nexus 4 aka LGE Nexus 4, codenamed "mako". I knew it was a little late, and Nexus 5 was about to get launched, and that's exactly why I said the above words.
I love it.
Reasons, a lot. When you first take it in your hand, it just fits. It's light weight compared to other phones IMO. Its covered with glass all over, both sides. Corning Gorrilla Glass 2 in the front and the glittering pattern unique to mako at the back. I metal rim around the front makes it even better, but what I particularly love is the way the front glass curves just before the edges, giving a superb feel whenever you swipe.
The lack of any navigation buttons sets it apart from other phones, and I love Google(or LG) for doing that.
The back panel is some thing to be concerned about, I won't deny that. I also wish there was a "Google" on the back (instead of LG may be), but I love the silver NEXUS.
Nexus is surely and specifically made for a pure and highly tweakable Android experience. Its great phone for a general user too, but if you're just going to do regular stuff, go for a budget phone. But if you're like me and can't wait even for a month before rooting your phone(and that too one you got for 25k) and trying every mod out there, go for it.
Nexus 4 opened the true world of Android development for me. Google and LG have made it extremelly easy to play with the software of this phone as deeply as you wish. Its like made just for flashing.
Apart from this, Nexus 4 has got superb hardware, be it processor, RAM, sensors or the body it self.
Its a beast built for someone who'll take it to the limits of Android tweaking and testing.
Here's mako on paranoid android, one of the most beautiful custom roms, isn't it aesthetic ?